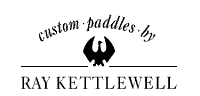 Ray has retired.
He is busy filling orders made prior to the announcement of his retirement.
When those are done, he will use any remaining wood to create a limited stock of paddles. When that wood is used up, that is the end. He will not know what styles or lengths will be available from that stock until after the end of November.
Customers can choose from that limited stock only when the stock is done, cash and pick-up only.