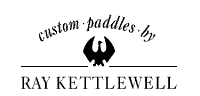 Ray has retired.
All the wood is gone. All the paddles are sold out.
You can still read about the paddles and how to care for yours.
Continue…
Thanks for all your support and recommendations
over the years. It's a joy to make fine things
for people who appreciate them.
You might just want to come back here later in the spring. We'll have something important to announce.